Brazil vs Bolivia: World Cup Qualifiers Clash
The highly anticipated CONMEBOL World Cup Qualifier between Brazil and Bolivia is set to take place at the Mangueirao Stadium on September 8, 2023. This match marks the beginning of Brazil's qualifying campaign for the 2026 World Cup. Under the interim coaching of Fernando Diniz, the Selecao will be eager to secure a positive start after a series of disappointing results.
Brazil's Recent Form
Brazil's recent performances have been less than stellar, having won just one out of their last four fixtures. Their defeat to Croatia in the 2022 World Cup sealed their fate and eliminated them from the tournament. The pressure is on for the six-time World champions to regain their winning form and demonstrate their dominance in South American football.
Team News
The biggest headline surrounding Brazil's squad is the inclusion of Neymar, who recently signed for Saudi Pro League club Al-Hilal. Alongside him, the Selecao boasts a significant number of Premier League players, including Alisson and Ederson, goalkeepers for Liverpool and Manchester City respectively. Joelinton of Newcastle United and Bruno Guimaraes are also part of the squad.
However, Brazil will be missing Vinicius Junior and Eder Militao due to injuries. Lucas Paqueta of West Ham United has also been left out of the squad. The predicted starting XI for Brazil includes Alisson in goal, with Vanderson, Marquinhos, Gabriel, and Caio Henrique forming the defense. Casemiro, Bruno Guimaraes, and Joelinton will be in the midfield, while Raphinha, Gabriel Jesus, and Neymar make up the forward line.
Bolivia's Challenges
Meanwhile, Bolivia faces numerous challenges as they travel to Brazil. The team has struggled in recent fixtures, with only one win in their last 11 matches across all competitions. Bolivia has qualified for the World Cup only three times, with their last appearance dating back to 1994.
Bolivia's squad has been affected by injuries, with Jeyson Chura and Jesus Sagredo missing out on this crucial match. Manager Gustavo Costas has also decided to exclude Danny Bejarano and Ramiro Vaca, who were previously part of the squad. The predicted starting XI for Bolivia includes Lampe in goal, with Jose Sagredo, Quinteros, Roca, Diego Bejarano, Cespedes, Quiroga, Fernandez, and Miguelito forming the defensive and midfield lines. Algaranaz and Moreno are expected to lead the attacking line.
Head-to-Head Record
In their previous encounters, Brazil has historically dominated Bolivia. Their most recent clash in March 2022 ended with a resounding 4-0 victory for Brazil. In October 2020, they secured a 5-0 win, and in June 2019, Brazil triumphed with a score of 3-0. However, football is a dynamic sport, and past results do not always predict future outcomes.
How to Watch
For viewers in the United States, the fixture will be broadcast live on fuboTV, VIX, and Universo. Match highlights will be available on these platforms after the full-time whistle. Live updates can also be accessed on GOAL.
Editorial: South American Supremacy and the Philosophy of Competitiveness
The CONMEBOL World Cup Qualifiers present an opportunity to witness the fierce competition and historic rivalry that exists among South American football nations. The clash between Brazil and Bolivia is a clear example of the stark contrast in footballing pedigree and resources between two nations.
As fans, it is essential to appreciate the unique characteristics and strengths that each team brings to the table. While Brazil is known for its rich footballing history, boasting numerous World Cup victories and producing world-class talents, Bolivia has faced its fair share of challenges and struggles to make an impact on the global stage.
This discrepancy in success and resources raises philosophical questions about the nature of competition. Is it fair for nations with differing levels of financial backing and talent pools to compete against one another? Does it create a level playing field in which the underdog has a genuine chance of success?
These questions echo broader debates about wealth redistribution and equity, not only within the realm of sports but also in society as a whole. The divide between the haves and have-nots is often magnified in the context of international competitions, leading to discussions about the fairness of such competitions and the potential need for restructuring.
Ultimately, while the outcome of the Brazil vs Bolivia match may seem predetermined based on historical data, it is these competitions and the spirit of sportsmanship that showcase the beauty, unpredictability, and drama of the game. Regardless of the result, it is essential to celebrate the artistry of football and the human stories behind each team's journey.
Conclusion
As Brazil and Bolivia prepare to face off in their first World Cup Qualifier, all eyes will be on the Mangueirao Stadium. Brazil, with its rich footballing history and star-studded squad, will aim to kickstart their campaign on a positive note. Meanwhile, Bolivia will seek to defy the odds and make their mark against their formidable opponent.
However, beyond the outcome of this match lies a deeper philosophical discussion about competitiveness, fairness, and the spirit of sportsmanship. While Brazil may have the upper hand in terms of resources and talent, it is the love for the game and the pursuit of excellence that unites football fans worldwide.
Football-wordpress,livestream,TVchannel,kick-offtime,BrazilvsBolivia,SouthAmericanSupremacy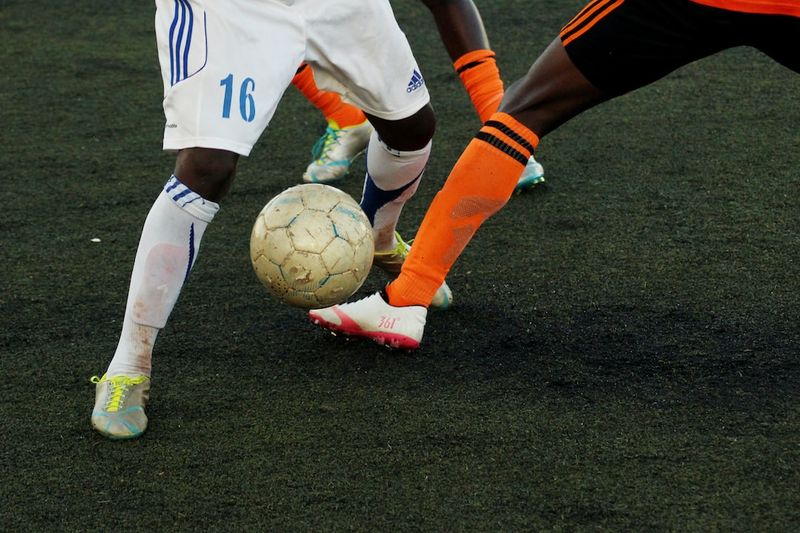 << photo by Jannik Skorna >>
The image is for illustrative purposes only and does not depict the actual situation.
You might want to read !