Notre Dame vs. Ohio State: A Battle of Tradition-Rich Programs
This upcoming Saturday, the 9th ranked University of Notre Dame Fighting Irish will face off against the 6th ranked Ohio State Buckeyes in a highly anticipated top-10 clash. Both teams bring a rich football tradition and a plethora of offensive talent to this early-season showdown. This will be the second meeting between these two powerhouses, with the Buckeyes coming out on top in a 21-10 victory last season at Ohio Stadium. However, this game promises to be a high-scoring affair given the offensive prowess displayed by both teams so far this season.
Impressive Start for Notre Dame
Notre Dame has started the season with a perfect 4-0 record, averaging a remarkable 46 points per game. Their explosive offense has scored over 40 points in each contest thus far, with their closest game being a 21-point road win over NC State. The Irish have showcased an impressive passing attack led by quarterback Sam Hartman, a Wake Forest transfer who has already thrown for 1,061 yards and 13 touchdowns. Hartman's stellar performances have even sparked discussions of a potential Heisman Trophy candidacy. Running back Audric Estime has also been a standout for the Irish, leading the nation with 521 rushing yards and five touchdowns. His ability to break long runs and gain tough yards makes him a formidable threat in the backfield.
Ohio State's Quest for Domination
Ohio State, on the other hand, has had a less convincing start compared to the high expectations placed on them. Though they hold a 3-0 record, their victories over Indiana, Youngstown State, and Western Kentucky have not been as dominant as many anticipated. Quarterback Kyle McCord has emerged as the starter after a competition with Devin Brown, and he showcased his potential in the Buckeyes' most impressive offensive performance yet, a 63-point outing against Western Kentucky. McCord's favorite target has been Marvin Harrison Jr., an exceptional receiver capable of scoring on any possession.
Playoff Implications
The outcome of this prime-time clash could have significant implications for the College Football Playoff. Both teams face their toughest test of the season thus far, and a victory for the winner could be the catalyst to propel them into playoff contention. It is worth noting that these two programs have a combined seven appearances in the College Football Playoff, making them two of the most successful teams in the current playoff era. While Ohio State has managed to win a playoff game and even claim the title in 2014, Notre Dame has fallen short in both of its opportunities. Nevertheless, the Fighting Irish are one of just seven schools to make a repeat appearance in the playoffs.
Prediction and Analysis
The highly anticipated matchup between Notre Dame and Ohio State is expected to be a high-scoring affair, with explosive offenses on both sides. While both teams possess strong defenses, history has shown that battles between great defenses and great offenses often lean towards the offense's favor. Notre Dame's ability to score from outside the red zone, with 12 touchdowns in that area, is the most in the country. Ohio State is not far behind with 10 touchdowns from outside the red zone. This suggests that there will be ample big plays and touchdowns in this game.
Expert Predictions
Dennis Dodd, Tom Fornelli, Chip Patterson, Barrett Sallee, Shehan Jeyarajah, David Cobb, and Jerry Palm all predict a Notre Dame victory, with some even suggesting that Notre Dame will cover the spread. However, the game is expected to be closely contested, with the line set at Notre Dame +3.
Editorial: The Significance of Tradition and Rivalries
This matchup between Notre Dame and Ohio State highlights the enduring significance of tradition and rivalries in college football. These teams carry legions of passionate fans and a storied history, making each meeting a momentous event. While the action on the field is exciting, the matchup signifies more than just a game; it represents the culmination of decades of rivalry, competition, and memories. The collective energy and anticipation surrounding such rivalries add another layer of excitement to college football, reminding us why we are so captivated by the sport.
Advice for Football Enthusiasts
For football enthusiasts and fans of either team, this game is a must-watch. The clash between Notre Dame and Ohio State promises to entertain with high-scoring offenses, outstanding individual performances, and the potential for a pivotal moment in the College Football Playoff race. So mark your calendars and make sure to tune in for what is sure to be an unforgettable showdown.
Football-notre-dame,ohio-state,live-stream,tv-coverage,epic-showdown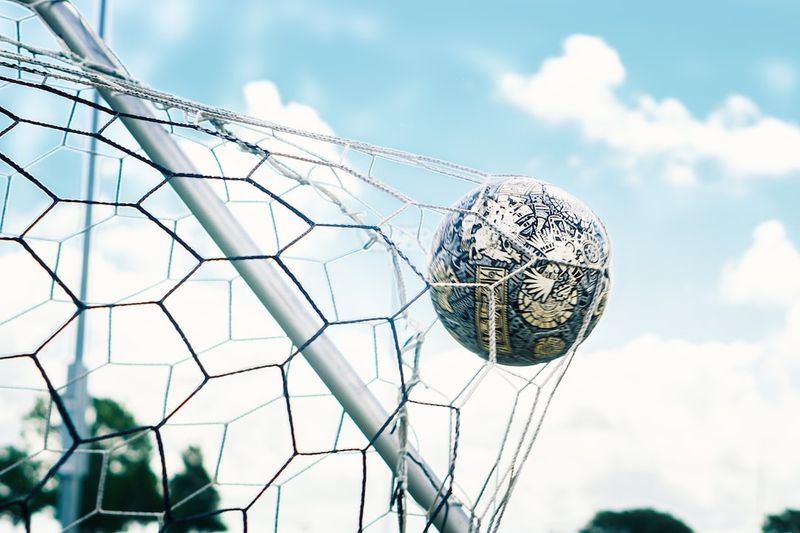 << photo by Chaos Soccer Gear >>
The image is for illustrative purposes only and does not depict the actual situation.
You might want to read !