Week 1 NFL Recap: Rookie Standouts, Offensive and Defensive Spotlights
Detroit Lions 21, Kansas City Chiefs 20
Offensive spotlight: Travis Kelce's absence allowed Chiefs quarterback Patrick Mahomes to distribute the ball to multiple receivers, completing 21-of-39 passes for 226 yards and two touchdowns. However, drops from his receivers, including three from Kadarius Toney, hindered the Chiefs' offense. Lions quarterback Jared Goff drove a 75-yard touchdown, with the help of Josh Reynolds and a David Montgomery rushing touchdown, leading the Lions to a fourth-quarter win.
Atlanta Falcons 24, Carolina Panthers 10
Defensive spotlight: The Falcons defense, under the guidance of new defensive coordinator Ryan Nielsen, had a strong start with a fourth-down stop and an interception in the red zone. Free agent safety Jessie Bates made a significant impact with two interceptions and two defensive stops.
Baltimore Ravens 25, Houston Texans 9
Rookie spotlight: Zay Flowers showcased his offensive potential with 87 rushing and receiving yards on 11 touches. C.J. Stroud faced a tough opponent in the Ravens defense but showed promise with 242 passing yards. Will Anderson Jr., the third overall selection in the 2023 NFL Draft, recorded his first sack as a professional.
Cleveland Browns 24, Cincinnati Bengals 3
Offensive spotlight: Both passing offenses struggled, with Joe Burrow and Deshaun Watson struggling to find the endzone. The Browns found success on the ground, led by Nick Chubb's 106 rushing yards. Their ability to rely on the ground game contributed to their victory.
San Francisco 49ers 30, Pittsburgh Steelers 7
Defensive spotlight: T.J. Watt stood out for the Steelers, recording three sacks, two forced fumbles, one tackle for loss, one fumble recovery, and five quarterback hits. Watt's performance puts him in the early conversation for Defensive Player of the Year.
Tampa Bay Buccaneers 20, Minnesota Vikings 17
Rookie spotlight: Vikings rookie Jordan Addison had a solid debut, catching four passes for the Minnesota team. His performance suggested he can serve as a complement to star receiver Justin Jefferson.
Jacksonville Jaguars 31, Indianapolis Colts 21
Offensive spotlight: Calvin Ridley immediately made an impact as the lead receiver for the Jaguars, catching eight passes for 101 yards and a touchdown. Ridley's performance showcased his talent and confirmed the offseason hype.
Washington Commanders 20, Arizona Cardinals 16
Defensive spotlight: The Commanders' defensive line dominated the Cardinals' offensive line, with Montez Sweat and Jonathan Allen standing out. Their combined efforts resulted in 14 total pressures, three sacks, and two fumble recoveries.
New Orleans Saints 16, Tennessee Titans 15
Rookie spotlight: Saints rookie Bryan Bresee made an impact in his first regular season game, recording a half sack and two quarterback hits.
Los Angeles Rams 30, Seattle Seahawks 13
Offensive spotlight: The Rams had several relatively unknown players step up, with Kyren Williams scoring two rushing touchdowns. Rookie Puka Nacua and Tutu Atwell led the way in receiving yards, combining for 238 yards. The Rams' defense proved too much for the Seahawks, limiting their offensive production.
Miami Dolphins 36, Los Angeles Chargers 34
Defensive spotlight: The Chargers' defense struggled, allowing 531 yards of offense despite recording turnovers. J.C. Jackson intercepted a pass, and Nick Williams had a fumble recovery, but it wasn't enough to overcome the Dolphins.
Green Bay Packers 38, Chicago Bears 20
Rookie spotlight: Green Bay Packers rookies Jayden Reed and Luke Musgrave showcased their speed and skills. Reed had a 35-yard punt return and caught two passes, while Musgrave caught three passes for 50 yards. Bears rookie running back Roschon Johnson displayed his ability with hard-running plays and receptions.
Las Vegas Raiders 17, Denver Broncos 16
Offensive spotlight: Raiders wide receiver Jakobi Meyers had an impactful start, with nine receptions for 81 yards and two touchdowns. However, a hit to Meyers' head/neck area forced him to leave the game early. The Broncos' Javonte Williams returned from injury and contributed 52 yards rushing and four receptions.
Philadelphia Eagles 25, New England Patriots 20
Defensive spotlight: Eagles cornerback Darius Slay returned an interception for a touchdown, setting the tone early in the game. Patriots edge defenders Matthew Judon and Josh Uche recorded sacks, limiting the Eagles' offense. The Patriots made a valiant effort but fell short.
Dallas Cowboys 40, New York Giants 0
Rookie spotlight: Giants rookie cornerbacks Tre Hawkins III and Deonte Banks had a decent performance, with no catches allowed by Banks and an incompletion forced by Hawkins. Despite the positives, the Giants struggled overall in the game.
Buffalo Bills @ New York Jets: Stay tuned for updates on the game between the Bills and Jets.
Analysis and Discussion
Week 1 of the NFL season provided a range of performances from rookies, offensive stars, and defensive playmakers. While some teams had solid debuts, others struggled to find their rhythm. These early games provide valuable insight into player potential and team dynamics.
One standout from the rookie class was Zay Flowers of the Baltimore Ravens, who showcased versatility and playmaking ability in his first NFL game. Flowers displayed his speed and agility, making an impact both as a receiver and in the rushing game. Similarly, Bryan Bresee of the New Orleans Saints made his presence felt on the defensive line, recording a half sack and two quarterback hits.
In terms of offensive spotlights, Calvin Ridley's performance for the Jacksonville Jaguars stood out. Ridley, who faced adversity with a suspension, returned with a strong showing, serving as the lead receiver for the Jaguars. His connection with rookie quarterback Trevor Lawrence adds excitement to the team's offensive potential.
Defensively, T.J. Watt's dominant performance for the Pittsburgh Steelers was a highlight. Watt's three sacks, two forced fumbles, and overall impact put him in contention for the early Defensive Player of the Year conversation. Additionally, the Washington Commanders' defensive line, led by Montez Sweat and Jonathan Allen, proved formidable against the Arizona Cardinals, applying consistent pressure and collecting sacks and fumbles.
Editorial and Advice
As Week 1 unfolds, it is crucial to recognize the potential of rookies and the impact they can have on their respective teams. Players like Zay Flowers, Bryan Bresee, and Calvin Ridley have shown early promise, indicating bright futures in the league. These rookies can bring a fresh dynamic to their teams and contribute to their success throughout the season.
Furthermore, standout performances from offensive and defensive players, such as T.J. Watt and Montez Sweat, highlight the importance of individual playmaking. These playmakers can significantly impact their teams' success and should continue to be watched closely as the season progresses.
Teams with struggling offenses, like the Kansas City Chiefs and Cincinnati Bengals, should use Week 1 as a learning experience and work towards improving their passing games. Meanwhile, teams with strong ground games, such as the Cleveland Browns, should continue to rely on their run game as a key asset.
Overall, Week 1 provides a glimpse into the potential of both established and emerging players. It sets the stage for an exciting and competitive NFL season. As the games progress, teams and players will have further opportunities to showcase their skills, overcome challenges, and solidify their positions as contenders.
Football-openingblitz,week1,showdowns,summaries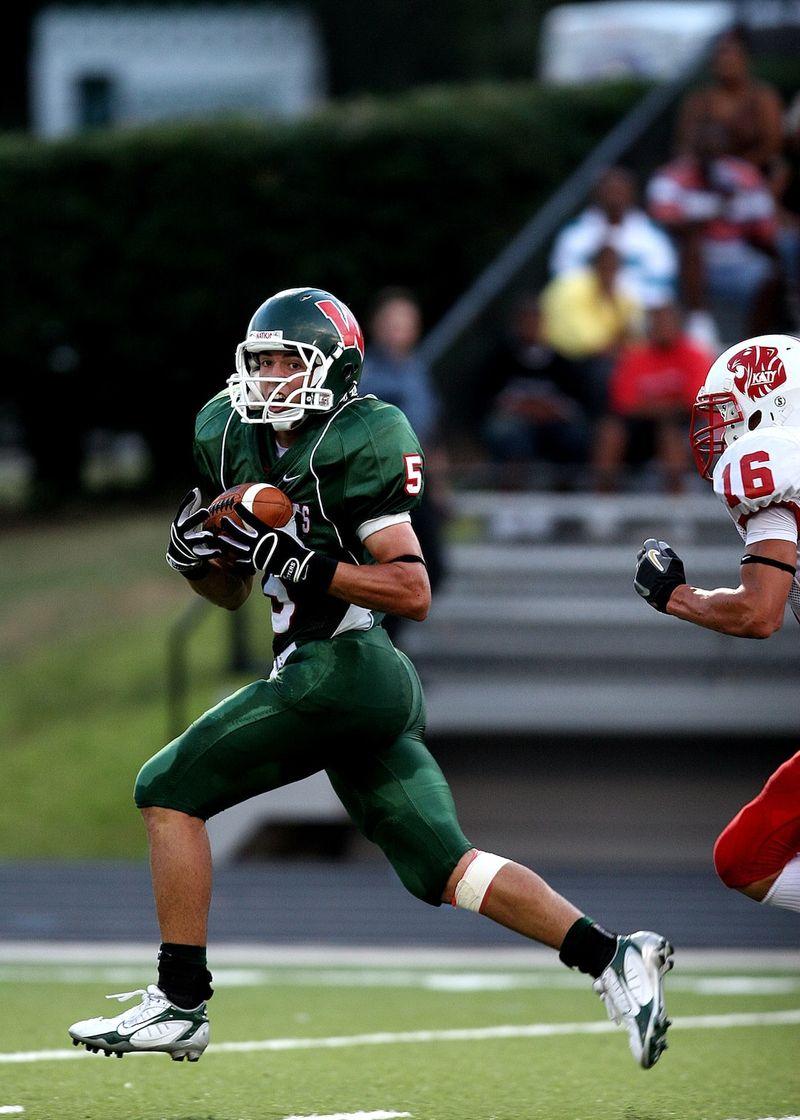 << photo by Keith Johnston >>
The image is for illustrative purposes only and does not depict the actual situation.
You might want to read !